NAI Harcourts has opened its new Auckland Viaduct office on Level One of Orcacom House at 32 Market Place occupying one of five floors within the building.
Nick Wevers, the new franchise owner of NAI Harcourts Auckland Viaduct, says he chose the location because it was close to the waterfront, has ease of access to the all the motorways and because it enables his team of four to be linked to all the main business hubs of Auckland.
The 259 sq m office has a mixture of open plan and closed office spaces with the fit out purpose-built to encourage the team communication in a collaborative and open working environment.
"With specially designed seating, up to twelve consultants can work at their stations but still remain closely connected as a team," Wevers says. "A large boardroom and meeting room complete the specialised fit out for client privacy when needed."
Having road frontage access the office sits within the block of the Viaduct's Customs St West and Pakenham Street East.
In addition to Wevers the Viaduct team includes: Ranjan Unka who has been in commercial and industrial sales and leasing since 2007 and who also has over 15 years in sales and marketing; Rex Worthington with over 25 years' experience in the real estate industry; and Tatiana Fuentes who is "well established and well-respected in the real estate industry."
Richard Laery, general manager, NAI Harcourts NZ, says Wevers brings to the new office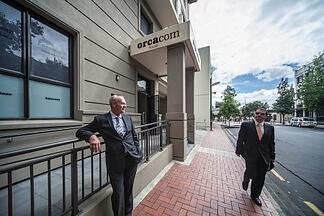 many years of expertise and an extensive background in commercial property, including his having been the CEO of a listed commercial property investment company.
"In the last 12 months, Nick has been involved in over $60 million dollars of commercial sales in a variety of locations around the North Island with several of these transactions being large format retail properties," Laery says. "He has participated in several substantial transactions including representing the purchaser of a large CBD office building and advising private clients with property acquisitions and disposals. Nick is well known to many corporate and large institutional owners all around the country and also spent three years as National President of the Property Council of New Zealand."
Wevers says his focus will be to deliver a professional service to clients in the commercial, industrial and leasing markets in Auckland and New Zealand while leveraging NAI Harcourts' international network. "My intention is to grow a strong team and standout business that will service a wide range of clients," he says.
Published NZ HERALD, Prime Assets 16 February 2013