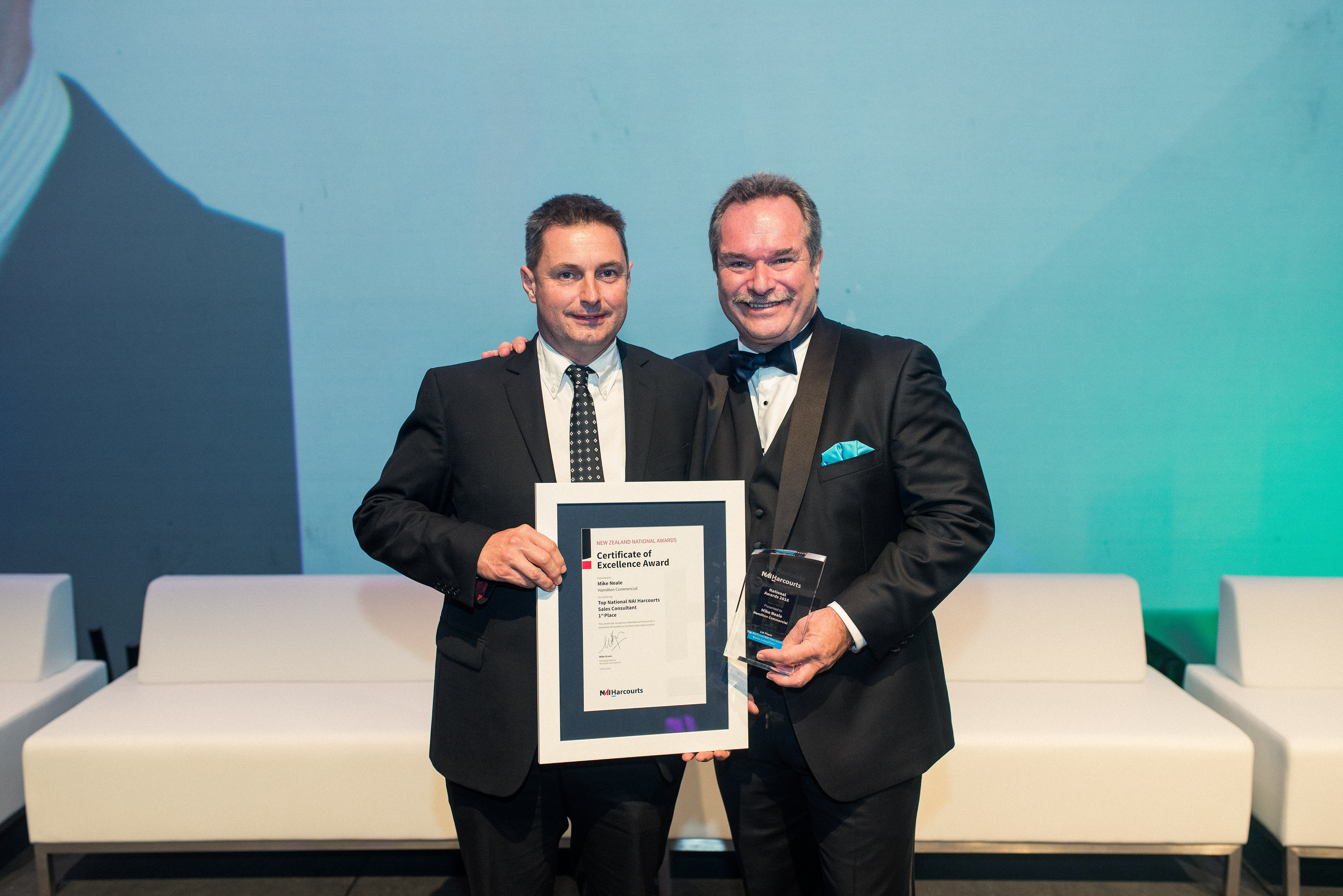 Mike Neale has once again been recognised as the top commercial sales consultant for NAI Harcourts New Zealand.
Neale took out the award at the Harcourts National Conference, which was attended by 1300 delegates from around New Zealand, as well as international guests.
The Managing Director of Hamilton Commercial, Mike leads a team of nine and together they are well recognised as the Waikato's commercial experts.
This is the second time Neale has won the coveted top spot.
Neale says Hamilton Commercial's success is the result of good groundwork.
"A lot of the work we have done over the last 10 years is now paying dividends. It's all the smaller sales, the leases, and the relationships that have been built, has led to our success today."
Neale specialises in working in the Hamilton CBD, along with colleague Kara Gerrand, to whom he attributes much of his success.
"We made a decision to focus on specific areas of the market, so for example we don't do industrial or land deals. This means we are very targeted and very knowledgeable about commercial sales and leasing in the Hamilton CBD. That's where we are the experts."
Hamilton Commercial is a tight team, with top performing sales consultants who all rely on and support each other's business.
"When one of us does well, that reflects positively on all of us. So we are very supportive of each other," Neale says.
NAI Harcourts General Manager Greg Clarke says Mike and the team at Hamilton Commercial are incredibly dedicated and strive for perfection in everything they do.
This dedication to excellence has built them a loyal client and customer base, who would not consider using any one else for many of their commercial property dealings.
"What you need to know about Mike Neale and Hamilton Commercial is that they strive to deliver the very best possible service, all of the time. There are no short cuts and they get the best results. It's why over 80% of their clients are repeat or referral.
"This is a well-deserved award for an outstanding team," Clarke says.
What are you writing about today?