If you are looking to relocate, refurbish or simply refit your existing offices, you'll no doubt be looking for professional help and guidance to support you through the process. There will be many questions and challenges that spring to mind, and whilst every organisation and office space is different, the fundamental questions at the outset are often the same.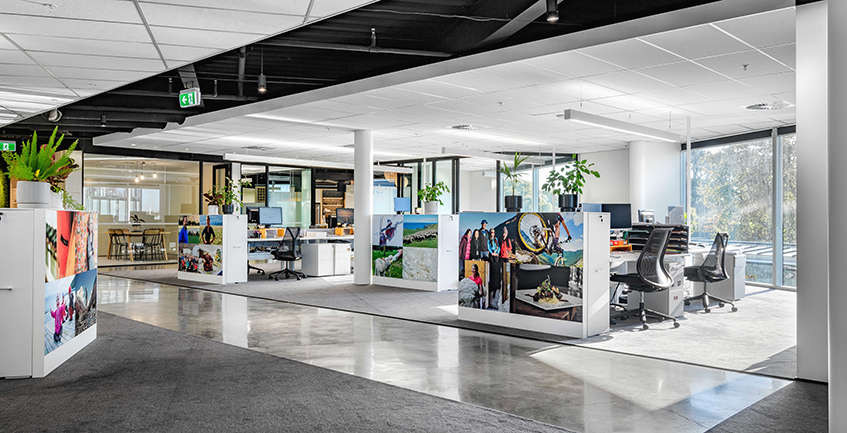 Photo by Anthony Turnham

How much space is needed?
It's vital to get this right. Most offices under utilise around 25% of their space at any one time. Substantial savings can be made if this space is used more effectively.
Space evaluation
Every project varies according to the nature of the business and the size of the overall tenancy. Considering up front what hinders productivity and collaboration can go a long way to ensuring your new office is flexible, can adapt to changes in work habits, and will allow for future growth opportunities. A commercial interior design partner should be consulted to provide a personalised space analysis, including space planning right down to the last chair. Businesses must anticipate enough space for growth over the term of a lease. Understandably, it is difficult to determine headcount over two to three years, let alone over the term of a long lease. As a guide, a growth organisation should allow for a 10% increase in space for every two to three years of growth.
Industry average space requirements
The amount of space required will vary depending on the type of business. The current industry average is 12.50 sqm per person. This is based on usable space which does not include areas such as toilets, stairs or lift lobbies. Factors that dictate the additional space include conference facilities and break out areas, an allowance for interdependent circulation space, together with consideration for storage and support facilities as well as staff room or kitchen facilities. The range across industries can be as little as 8 to 10 sqm per person for a call centre, up to 15 sqm per person or more for lawyers or corporate headquarters.
How much will it cost?
It is widely accepted that an office is now far more than just a space for employees to work in. Businesses are increasingly aware
of the effect that office design has upon staff retention, creativity and productivity. As a result, more and more employers are investing in their office fitouts.
Realistic budget
Budget is affected by the number of employees, size of the office, technical requirements of the organisation, and the degree of completion of the building and intended office space. It's vital that the budget is a realistic reflection of how much a business can afford, or wants to spend, on the fit out project. Some projects are purely cosmetic, while others will be more complicated and could include structural changes. Even purely cosmetic fit outs will vary in terms of final touches, quality and finishes. The projected budget cost should account for everything required to turn an empty space into a workplace that inspires creativity and collaboration.
New office or refurbishment of a previously tenanted space
New offices where the landlord is not providing 'hard' fit out tenancy services such as air conditioning, lighting, power and carpet will increase the cost per square metre; in which case you may negotiate with the developer or landlord to contribute towards the cost of the base build alterations. This arrangement can help ensure that the space will meet the organisation's needs as a tenant and can save wasted time and money further down the line.

Fit out costs vary depending on the nature of the existing build. Is it a new empty shell or has it been previously tenanted? What is the grade of the building, the desired quality of finish and what alterations are required to services? An integrated (hard and soft) fit out could range between $800 and $1,500 per square metre for a 'B' grade space, which is the most common space tenanted by businesses. This includes an allowance for operating costs such as design and project management, moving costs, consents and consultants' fees.
How long does it take?
Upon determining which premises are best suited to a business, the design through construction process can take anywhere from 12 weeks to 6 months, or more depending on the quality and size of the project.
Today's economy is such that margins are leaner than ever, so efficiency is critical. Working with an interior design and build partner that can design, create detailed construction drawings and project manage, can help ensure that the project is completed on time and within budget.

When all relevant team members are working together from the beginning to mutually agreed objectives, misinterpretation or slow response to project delivery decisions can be avoided.
Project timeline
(for projects 350- 1500sqm)

1 week: Stakeholder engagement, project objectives, feasibility and design brief
3- 7 weeks: Design, documentation (consent and construction drawings) and budget estimates
4- 5 weeks: Building consent, tendering and final costing
5- 10 weeks: Construction
Total: Works completed within 12 - 22 weeks.
Partnership and collaboration
The best results will always come from a close partnership and collaborative relationship between designer and client. Architectural knowledge is key, playing a pivotal role in delivering good commercial interior design and works being completed on time.

A quality design team will guide a business effectively through the process, from feasibility through to every other element of a commercial space including, but not limited to, flooring, building materials, space distribution, interior partitioning, plumbing, power systems, lighting, data, ceiling, mechanical, furniture and joinery.

Businesses should spend time up front to determine what they need now and in future, and what they expect a relocation or refurbishment project to achieve.

Gaze Commercial has a proven track record over 35 years. We have the experience and skill set to lead you through this process, freeing you up to run your business.

Call us on 0800 575 657 for a personalised guide for your space requirements together with a budget estimate for any ideas or plans you might have.

By Jeremy Andrew, Account Director, Gaze Commercial Limited


This article featured in NAI Harcourts' Key Assets magazine issue 2, 2019.
View the latest e-book and subscribe to future issues: