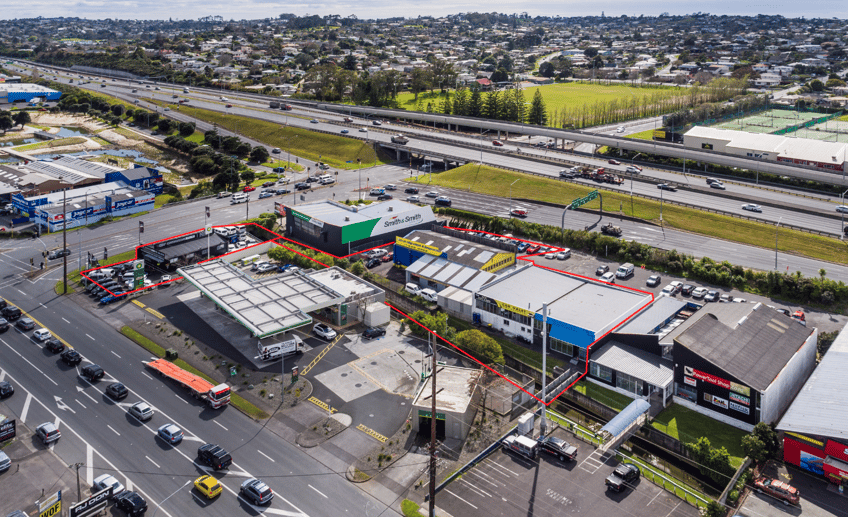 Wairau Road is one of the busier industrial areas in Auckland, with approximately 30,000 plus vehicles passing by each day.
It's an outstanding location for commercial investment, and NAI Harcourts North Shore is proud to present 125 and 131 Wairau Road, two freehold titles for sale individually.
It is the first time the properties have gone on the market in nearly 50 years. Andrew Bruce of NAI Harcourts North Shore says he expects a good level of interest, especially given the current commercial market in Auckland, with listings low and properties tightly held.
131 Wairau Road is in a high profile corner position with one established tenant, Corporate Cars.
The compact property occupies a 653m² corner site. The building features a roller door at the front along with basic amenities and a suspended ceiling with fluorescent tube lighting. It has reinforced concrete foundations and floor, concrete block walls and an iron roof.
Positioned with excellent exposure, the complete northern side of the building is used as a 17m billboard, which has been solidly leased from 1989-2016. The most recent lease beng $2,000 per calendar month, which expired last month.
Corporate Cars, New Zealand's largest UK prestige car importer, leases the building and pays $61,440 + GST per year. The lease expires in May 2018.
125 Wairau Road is 2,734m² and comprises two attached workshop units (built circa 19702), plus a standalone purpose built mechanics workshop.
The tenants are Ace Tidy Cars Limited, a cleaning service, who pay $33,248 + GST per year with a final lease expiry of February 2018.
Corporate Cars also store some of their vehicles at 125 Wairau Road, paying $33,600 + GST per year.
Finally, Wairau Alignment, an automative repairs business, holds a lease until May 2018 and pays $70,300 + GST in rent each year.
Combined, the total rent paid per annum for 125 Wairau Road is $137,148 + GST.
Both properties are positioned with close proximity to motorways, North Shore Hospital, Smales Farm, Takapuna Golf Course, bulk retailers in Link Drive and residential neighbourhoods.
Under the Unitary Plan recommendation, the properties are zoned light industry, which allows for industrial activities that do not generate objectionable odour, dust or noise. There is a height limit of 20m.
Peta Laery of NAI Harcourts North Shore says investors should seriously consider this split risk investment, in the current low vacancy market.
"With relatively short term leases, a purchaser has options to invest, restructure leases, occupy or redevelop, and in a location that is visible to approximately 30,000 vehicles driving past each day, as well as 100,000 daily on the Northern Motorway."
The properties are offered for sale individually by auction at 12pm on Wednesday 26 October at NAI Harcourts auction room located at 128 Hurstmere Road, Takapuna.