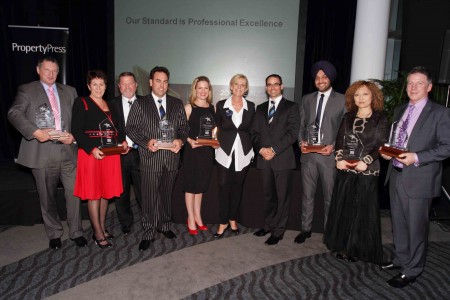 Harcourts has been celebrated at the Real Estate Institute of New Zealand's annual Awards for Excellence in Real Estate Sales.
With over 12,000 sales consultants competing for the awards, Harcourts has performed outstandingly with nine of our salespeople and agencies winning top billing.
Matty Ma of Harcourts Cooper & Co on Auckland's North Shore was awarded the country's number one Residential Salesperson ranking for her outstanding performance over the past year. Matty recently celebrated achieving $375million in settled sales and is renowned for an extraordinary work ethic which sees her list properties ranging from $300,000 to $35m.
Jamie Slater of Harcourts Greytown was announced as New Zealand's top Residential Rising Star. Since beginning her career in real estate less than a year ago, Jamie has made over $10m in sales and has ranked in the top 1% of Harcourts' sales consultants for the past two consecutive six month periods.
South Auckland's Harcourts BCRE was celebrated as the best performing Rural Agency in the country. Owner Graham Viall says he is thrilled with the award, particularly as his small team of eight salespeople were competing against a pool of elite and specialised rural agencies.
Harcourts New Zealand CEO Hayden Duncan says the group's performance over the past year has been outstanding and the recognition at the REINZ awards is well deserved.
"Congratulations to all our winners. To have performed so well is a credit to the excellence that each of our sales consultants and agencies aspire to."
The Harcourts 2013 REINZ Awards for Excellence in Real Estate Sales winners are:
Residential Rising Star
Winner – Jamie Slater, Hamill Realty Ltd, Harcourts Greytown
Runner up – Harsimran Singh – Preet & Co Ltd, Harcourts Manukau
Rural Salesperson
Runner up – Aaron Davey, Monarch Real Estate Ltd, Harcourts Glenview, Hamilton
Business Brokers Salesperson
Runner up – Premilla Sharma, Grenadier Real Estate, Harcourts Christchurch
Residential Salesperson
Winner – Matty Ma, Cooper & Co, Harcourts Auckland
Rural Agency
Winner – BCRE, Harcourts South Auckland
Business Brokers Agency
Runner up – Christchurch City Business Brokers Grenadier Real Estate Ltd, Harcourts Christchurch
Medium Agency
Runner up – Team Wellington Ltd, Harcourts
Large Agency
Runner up – Cooper & Co Real Estate Ltd, Harcourts North Shore